Application Procedure: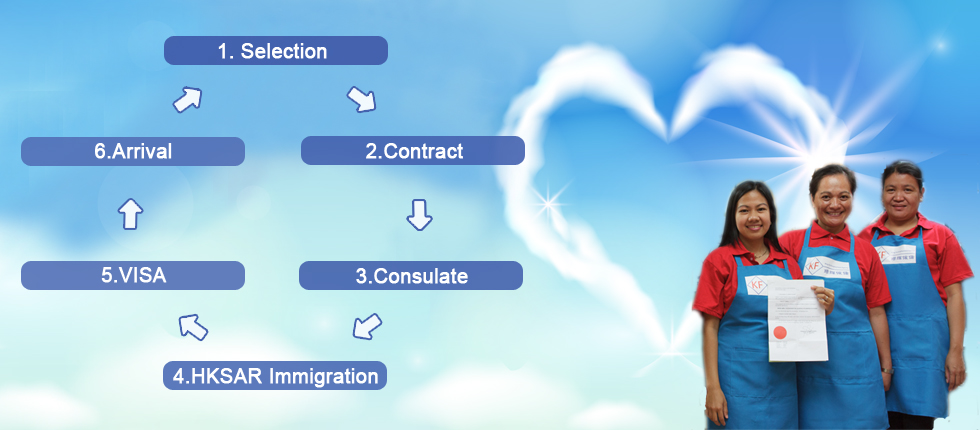 Application Requirements:
Financial Evidence:

The employer should prove yearly income not less than HK$180,000 or monthly income not less than HK$15,000, most often used document is the tax notice from the government;
The bank deposit from employer proving not less than HK$360,000 within the recent three months

HK ID card copy
Address proof copy, including water/electricity/telephone bills, etc.
Family member's information
Former helper's information
Helper salary:HK government requires not less than HK$4630 monthly salary for helper.
Accommodation:During the two-year contract, employers are responsible for domestic helpers' room and board, medical care and labor insurance.
Termination of Employment Contract:Either party may terminate the contract by giving not less than one month's notice in writing or by paying one month's wages to the other party. However, employers must pay for domestic helpers' tickets to return to his/her place of origin and travel allowance no matter who terminates the contract or when the contract is finished. Employers are required to notify the Foreign Domestic Helpers Section of the Immigration Department in writing of the termination within seven days of the date of termination.
Rest day:Employer should give four rest days per month to their helpers, at least a week a rest day.
Statutory Holidays:After serving 3 months, a foreign domestic helper is entitled for 12 days of labor holiday and 7 days of paid holidays each year:
| | |
| --- | --- |
| 1) | the first day of January |
| 2) | Lunar New Year's Day |
| 3) | the second day of Lunar New Year |
| 4) | the third day of Lunar New Year |
| 5) | Ching Ming Festival |
| 6) | May 1st Labour Day |
| 7) | Tuen Ng Festival |
| 8) | July 1st Hong Kong Special Administrative Region Establishment Day |
| 9) | the day following the Chinese Mid-Autumn Festival |
| 10) | Chung Yeung Festival |
| 11) | October 1st National Day |
| 12) | Christmas Day |